Her doctor is giving her the body of his dreams…and her nightmares.
Isa is a micro-celebrity who rarely shows her face, and can't wait to have it expertly ripped off and rearranged to look more feminine. When a successful fundraiser makes her gender affirming surgery possible, she's overjoyed—until she has to give up all her money to save her dying father.
Crushed by gender dysphoria and the pressure of disappointing her fans who paid for a new face, she answers a sketchy ad seeking transgender women for a free, experimental feminization treatment. The grotesquely flawless Dr. Skurm has gruesome methods, but he gets unbelievable results, and Isa is finally feeling comfortable in her skin. She even gains the courage to ask out her crush: an alluring and disfigured alchemy-obsessed artist named Rayna.
But Isa's body won't stop changing, and she's going from super model to super mutant. She has to discover the secret behind her metamorphosis—before the changes are irreversible, and she's an unwanted freak forever.
TRANSMUTED is an outrageous and unapologetically queer body horror tale that will leave you gasping, giggling, and gagging for more.
Praise for Transmuted
"…a whip-smart horror story sure to leave readers begging for more." — Gretchen Felker-Martin, author of Manhunt
"TRANSMUTED is completely off the rails. Holy hell. Read it in one sitting." — Danger Slater, Wonderland Award winning author of I Will Rot Without You
"Fans of weird mad scientists and gooey body horror will eat this novella up like Halloween candy. More fun and disturbing than a clown-themed amusement park ride." — Max Booth III, author of We Need to Do Something"
"Imbued with psychotronic alchemy, Eve Harms's TRANSMUTED is a book you don't want to miss. It's refreshing to read something so unrestrained." — Lucas Mangum, Two-time Splatterpunk Award-nominated author of Saint Sadist and Pandemonium
"Eve Harms brings her customary quirky tone and stellar character work to this tale of transformation gone wrong. It's a wild ride, running the gamut of grief, dysmorphia, and all too relatable self-loathing, hitting the stops of body horror, erotica, and creature feature along the way. TRANSMUTED put me through the wringer emotionally as I swung from outraged fury on Isa's behalf, to empathy, hope and horror. I love this fucking book, and I think everyone should read it." — Laurel Hightower, author of Howl and Crossroads
"Transmuted is a visceral delight. It deftly explores one woman's desire to live in the body she wishes for while battling what everyone else thinks she should be. Eve Harms is an exciting and needed voice in contemporary horror. I loved this book."

 — Sonora Taylor, author of Seeing Things and Little Paranoias: Stories
"Holy hell, what did I just read . . . and what is wrong with me that I loved every bizarre moment? This was a blood-splattered, gore-soaked, sexualized immersion in body horror, and it's utterly fantastic." — Bob/Sally of Beauty in Ruins
"Transmuted makes it clear that Eve Harms is an indispensable voice with a lot to add to the genre." — Kay VanAntwerpen of Wayward Magazine

Kendra Temples: The Demonic Diaries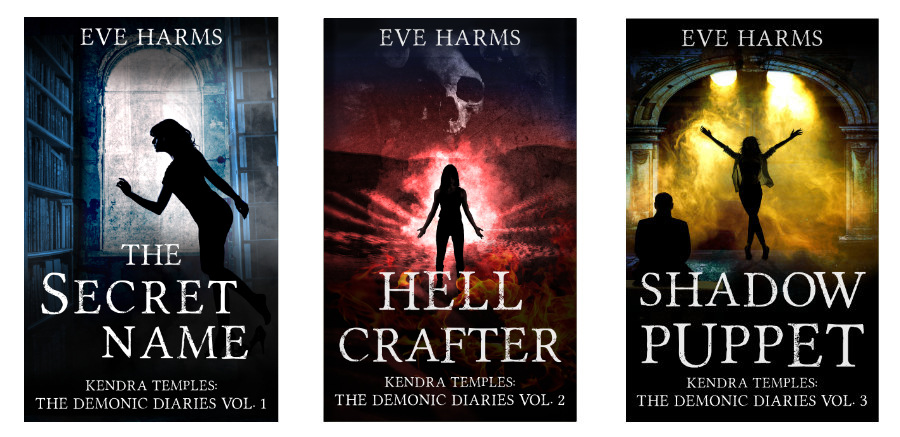 What people are saying
With The Demonic Diaries, author Eve Harms gifts us with gothic fiction befitting our doomed 21st century. Cool, smartly-researched lore and a protagonist who, try as she might, can't stay out of supernatural trouble, Eve's series promises fun and delivers it.
A fun series – Kendra's quirky narrative voice makes the pages fly by, and Eve Harms makes the most of intensive, enthralling research. Compulsively readable – demons and possession with a side of humor.
From reader reviews on Amazon and Goodreads
"Told as a series of blog posts, Kendra Temples' novella is at turns irreverent, deeply personal, disturbing, and nail-biting."
"Fresh. Witty. Intriguing. Thrilling. The Secret Name pulls you in with a clear and concise writing voice, and an unraveling mystery. For every breadcrumb of information provided, there is another question needing answered; propelling you down an occult rabbit hole."
"This is the first book EVER that I read that's horror and I must say it's f***ing creepy, cool, but creepy. Two thumbs up."
Description
Working in a creepy mansion surrounded by old books is kind of my dream job, but this might be too creepy—even for me. They asked weird interview questions like "Have you ever seen a dead body", I swear I heard a woman screaming last night, and I'm sure the owner is hiding something—like why he hired me as a librarian in the first place.
But I can't quit now. If I miss rent again my boyfriend will finally kick ol' broke Kendra (me) to the curb and into hobodom. Plus, it's great inspiration for my writing. I just hope I don't end up starring in a gothic horror story of my own… Anyways, I'll update y'all here in my blog.
If you like a quirky heroine facing inexplicable horror, then read The Secret Name today!

About Eve
Eve Harms is a writer of freaky fun dark fiction. Her work has appeared in publications such as Vastarien Literary Journal, under Rayna Waxhead, and Creepy Catalog, under Kendra Temples. She currently resides in Los Angeles with her children's book illustrator wife and two cats. You can connect with her on Twitter, Instagram, and not Facebook.